ALTO Pulse shows schools and agents more secure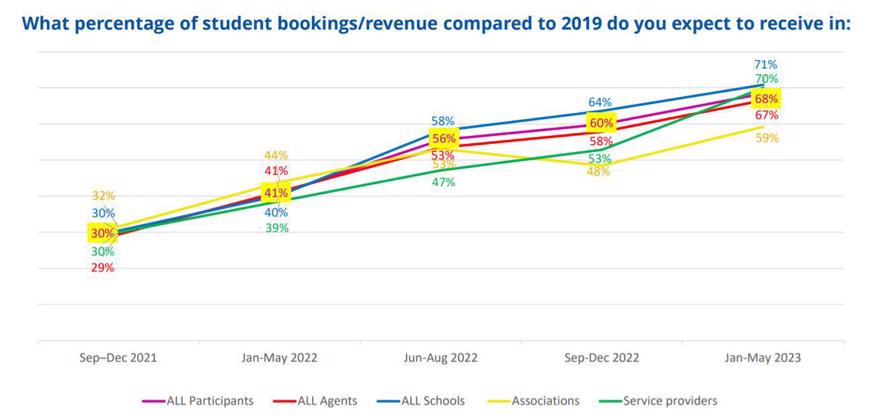 The latest quarterly Industry Pulse survey by the Association of Language Travel Organisations (ALTO) has shown more confidence in the sustainability of businesses in the sector, steady hopes for business recovery over the coming 18 months and rates of vaccination amongst industry professionals.
The 2021 Q3 edition of the ALTO  Industry Pulse was completed by 95 language schools, 64 agencies, 13 sector associations and seven service providers in July this year.
Overall 63 per cent of participants indicated that they had sufficient funds to sustain themselves for the next six months if revenue remains as it is now, an increase compared with only 53 per cent in the previous survey and the highest rate recording since ALTO began asking this question.
Agencies were slightly more optimistic at 66 per cent, while six per cent said they needed government support, 17 per cent said they must made further changes to operations, and the remainder said they need to make changes and receive government support.
Agents in Latin America were the most confident for the next six months at current revenue levels (74 per cent), followed by those Asia (64). Those in Europe & Russia were less optimistic with only 36 per cent able to survive at current levels without support.
Just over six in ten (61 per cent) language schools said they would survive as they are for the next six months at current levels, while 22 per cent said they must get support. Schools in the UK (78), Germany (70) and the USA (67) were the most confident.
In the 2021 Q2 ALTO Industry Pulse, only 24 per cent of industry professionals who completed the survey had been vaccinated, compared with 83 per cent in the latest survey, demonstrating the speed of vaccination rollout in major destinations and source countries. Only three per cent of respondents indicated that they would not get a vaccination.
All respondents from Canada, Malta and Germany said they were vaccinated, while there were high rates of approximately 90 per cent in the UK, Ireland and the USA.
In terms of business recovery, most participants still do not expect to return to half of 2019 levels of revenue until around the June-to-August period of 2022 (see top image).
Overall respondents expect 30 per cent pre-Covid revenue for the remainder of 2021, rising to 41 per cent in January-to-May 2022, 56 per cent in the peak June-to-August season of 2022, and 68 per cent by January-to-May 2023. Agents and schools were almost identical in their projections for the next three periods.
Compared with the previous Q2 survey, language schools have downgraded expectations for January-to-May 2022 and June-to-August 2022. Agency business projections were largely consistent with the previous Q2 2021 ALTO Pulse.
Since the survey was conducted, entry and recruitment controls have been relaxed in Canada, Ireland and the UK, while the USA is due to repeal its entry bans next months, factors that may impact on business projections in the next edition of the survey.
Click here to access this and previous editions of the ALTO Industry Pulse.
The current Q4 2021 edition of the Pulse is open for language travel organisations to complete now, and features questions drawn up in collaboration with the Federation of Education and Langauge Consultant Associations ( Felca). 
By Matthew Knott
News Editor