Recent trends in the KOSA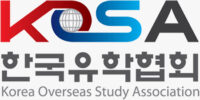 KOSA jointly hosts twice a year's study abroad fair with exhibition specialized company. This is a way for KOSA to efficiently secure prospective customers by organizing member companies and increasing the size rather than individually trying to secure customers.
In addition, in the global study abroad market, competition among educational institutions in each country to attract Korean students is heating up again. This is because countries that have been popular for Korean students to study abroad are showing their willingness to actively cooperate with the Korea Study Abroad Association. The New Zealand Ministry of Education and the Australian and Western Australian education offices are the most active, and the U.S. Department of Commerce is also active in strengthening cooperation with the Korea Study Abroad Association.